A Shell gas station in Sauk Rapids, Minnesota has decided to fight back after a recent rash of robberies. After falling victim to burglarizing thugs twice in the last three months, they are taking action, and it's in the form of a sign that liberals will surely hate.
The owner of the establishment has had enough. After two robberies, one of which was by a pair of armed men, Frank Schwagel posted a sign on his store's front door last week, hoping it will deter thugs from targeting his station. However, in today's climate, his message is sure to have "progressive" leftists foaming at the mouth, ready to spew their rabid rhetoric.
Knowing the police are only minutes away when every second counts, Schwagel is hoping to draw in customers who might help fend off would-be crooks during the evening hours. His plan to do so is quite simple, and the first step involves his simple sign.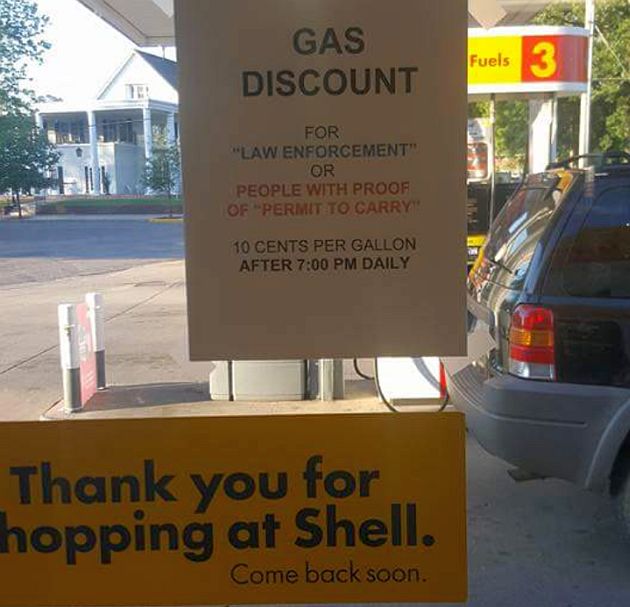 "Just trying to bring it to people's attention that there's been some robberies going on around town," Schwagel told

WJON-TV

. "And these guys are coming in with guns and knives and threatening our employees. It's pretty disconcerting. I just figured anything I can do to draw attention to the problem."
According to The Blaze, Schwagel added that he's had to "spend a lot of extra money on security to try to keep an eye on the store during all hours of the day." He continued, "I'm also paying people to keep an eye on the store independently. We're just hoping these guys get caught."
WJON-TV further reports that a photo of Schwagel's sign was posted to Facebook, but he says he just found out Tuesday morning that someone had posted it. It's since started to go viral, which isn't surprising considering that the Islamic Jihad that took place this same week has the gun debate raging once again. However, feedback from his customers has been positive.
While the liberal left continues to try to disarm the American people, anyone with an once of common sense realizes that such a move renders us helpless to criminals, who by definition don't follow the law. If laws deterred criminals, Schwagel's gas station wouldn't be robbed since that's illegal. It doesn't take a genius to figure this out.